crunchy granola
now browsing by tag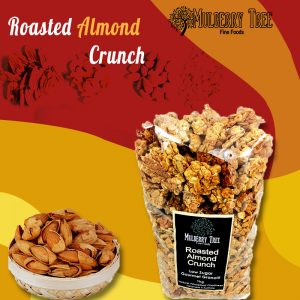 Roasted Almond Crunch is a crunchy low sugar granola product of Mulberry Tree, a wholesale granola brand. Our Roasted Almond Crunch granola is super crunchy as well as a tasty base served in many cafes around Australia. It is perfect for the Acai Bowl and ideal for a healthy breakfast or snack.
It is also a favorite snack food for kids. Roasted almond crunch is basically a double-baked cluster of granola with coconut and almonds. It is a low sugar granola and loaded with wholefood ingredients.
However, roasted almond crunch is a vegan granola therefore, it is suitable for those people who eat vegan in healthy cereals. Roasted almond crunch is rich in protein, vitamin E, magnesium as well as potassium that aid to flow nutrients and oxygen freely within the body.  This great granola helps to lower cholesterol level, blood pressure and many more.
Mulberry Tree provides different varieties of Granola and Muesli which are easy healthy breakfast cereals that are delicious as well as less time-consuming.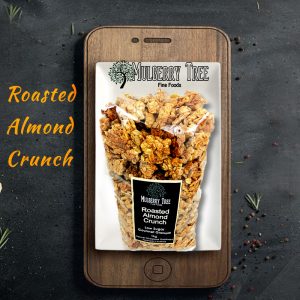 Roasted almond crunch by Mulberry Tree is tasty with crunchy granola clusters. This roasted almond crunch is good for the diet. This is quite known in Australian cafes for a main acai bowl ingredient. It can be eaten with milk, almond milk, fresh fruits and yogurt.
Roasted almond crunch contains protein, fiber, minerals and vitamins. It is a healthy whole food breakfast, and it contains no preservatives. It can be repacked into the respective sealed container after it is unpacked for keeping it fresh and crunchy.Best of all its a LOW SUGAR granola.
The ingredients of roasted almond crunch are rolled oats, wholemeal flour, high oleic sunflower oil, sunflower seeds, agave syrup, natural almonds, castor sugar, coconut flakes, cinnamon, natural maple flavour and salt.
Roasted almond crunch is a 1kg pack which is quite popular among whole food healthy cereals. We supply products to respective retailers in Melbourne, Brisbane and Sydney. We deliver products directly from our web stores to consumers.
Find the best granola in Roasted Almond Crunch. We are the manufacturers,and suppliers to cafes and independent grocers as well as to frozen acai berry distributors in Australia.
Visit our online store to know more about the product. Buy roasted almond crunch and get online discounts now.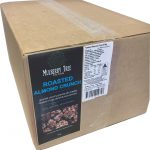 Roasted Almond Crunch granola in a 9kg catering pack of a healthy breakfast cereal by Mulberry Tree. Roasted Almond Crunch is a really crunchy healthy granola.
Mulberry Tree  is an Australian healthy granola and muesli manufacturer of easy healthy breakfast cereals.
Order online for overnight delivery of granola to Sydney, Melbourne and Brisbane suburbs. Save money at your cafe by avoiding expensive individual packaging with this large catering pack. Transfer to a sealed bin after opening to retain freshness.
Mulberry Tree is a  wholly owned subsidiary of Opera Foods Pty Ltd
#roastedalmondarunch #granola #cateringpack  #healthybreakfastcereal #mulberrytree #operafoods #healthygranola #healthycereal #mueslimanufacturers #easyhealthybreakfast #cafefood #cafemenuideas #cafes #australiancafes #cafebreakfast #catering #cateringsupplies
We're told that a lot of people find stuff through Instagram, so we have opened an account and posted. Here is our first organised post, shown using the hash tags (after learning what its all about).
Basically we have said "The best taste in a cranberry & nuts granola or muesli  and a winner of  the Great Taste Awards. It has no artificial sweeteners, and no artificial flavors, comes in a  new ziplock fresh reusable bag. Its full of low GI ingredients, so a healthy breakfast cereal that you can order online."
The hashtag presentation of the Instagram listing means that anyone searching Instagram under those tags can find our image and link back to our Instagram account and from there to our website to get our information