Low sugar cereal
now browsing by tag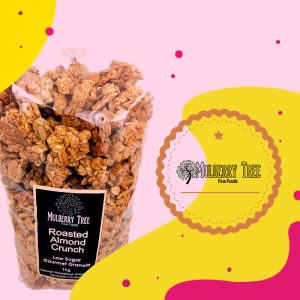 Granola has always been merited as one of the "healthiest breakfast cereal" among the superfoods. Granola is a type of breakfast cereal which is made up by combining nuts, grain oats, seeds and dried fruits. They are a good source of healthy fats, the monounsaturated and polyunsaturated fatty acids help in the lowering of blood pressure and cholesterol.
Mulberry Tree has been a standout brand among other famous granola brands in Australia over the years. Each variation of Granola or muesli which is available in our online store has different nutritional value thus making it exceptional in many cases. But all our granola products are rich in minerals and vitamins which results in good functionality of the nervous system of our body. It also improves cell growth and increases the energy metabolism of the immune system.
Our Delicious crunchy granola products are; Crispy Apple Paleo, Roasted Almond Crunch Granola, Toasted Cranberry Granola, and Toasted Honey & Macadamia Granola. They are tasty and crunchy, to sum up, your healthy morning breakfast. We produce high-quality gourmet Granola & Muesli. Check out our online store to get detailed knowledge about each product.
Mulberry Tree is a wholesale granola supplier to cafes and consumers in Australia through our parent company wholesale manufacturer/supplier Opera Foods.
Roasted Almond Crunch, from Mulberry Tree, is a really crunchy roasted granola and an easy healthy breakfast with milk, almond milk or yogurt and fresh fruit.
However it also is a high protein breakfast suitable for active people who want a low GI breakfast that will give them sustained energy long into their day.
Roasted Almond Crunch is based on Almonds which are the most nutritious nut and a perfect taste for a low sugar breakfast.
Almonds are 21% protein and a nutritionally dense food, containing a rich source (over 20% of the daily Needs) of the B vitamins riboflavin and niacin, vitamin E, and the essential minerals calcium, copper, iron, magnesium, manganese, phosphorus, and zinc. Almonds are also a source of the B vitamins thiamine, vitamin B6, and folate, choline, and the essential mineral potassium. They also contain substantial dietary fiber.
Roasted Almond Crunch is loaded with healthy Australian almonds. Buy healthy crunchy granola direct from wholesale distributors and manufacturers Opera Foods.
#almonds #protein #roastedalmondcrunch #mulberrytree #crunchygranola #crunchycereal #easyhealthybreakfast #yogurt #highprotein