Blog
now browsing by category
latest news on products and nutrition from Mulberry Tree Fine Foods
Established in 1988, Mulberry Tree is of the Opera Foods lineage, past masters in Gourmet Quality Breakfast Cereals Business. Award winners in International competitions (UK), the product range extends from Granola and Muesli Breakfast to Crispy Apple Paleo, Toasted Honey Macadamia, and Roasted Almond Crunch.
Consisting of High-Quality Fruits, Nuts and Grains sans Artificial Flavors or Preservatives, the foods have no added sugar plus low GI ingredients, which ensures extended release into the system, not to forget the Gluten-Free option and unbaked mixes. Our Muesli aids weight loss as it is low on saturated fat content and cholesterol. Granola can be had with Milk, Yoghurt or with dry fruits.
We have upgraded our packaging to aid looks, utility, facility to re-seal after partial use, besides elegant displayable characteristics in Wholesalers and Grocers.
Overnight deliveries can be made to Sydney, Melbourne, and Brisbane. Opera Foods are Wholesale suppliers to Melbourne Brisbane and to Sydney. Our Parent Company also now offers the Boost Nutrients range of Acai Bowl Ingredients. These combine perfectly with our Gourmet Granola.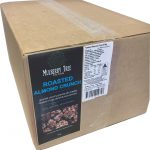 Roasted Almond Crunch granola in a 9kg catering pack of a healthy breakfast cereal by Mulberry Tree. Roasted Almond Crunch is a really crunchy healthy granola.
Mulberry Tree  is an Australian healthy granola and muesli manufacturer of easy healthy breakfast cereals.
Order online for overnight delivery of granola to Sydney, Melbourne and Brisbane suburbs. Save money at your cafe by avoiding expensive individual packaging with this large catering pack. Transfer to a sealed bin after opening to retain freshness.
Mulberry Tree is a  wholly owned subsidiary of Opera Foods Pty Ltd
#roastedalmondarunch #granola #cateringpack  #healthybreakfastcereal #mulberrytree #operafoods #healthygranola #healthycereal #mueslimanufacturers #easyhealthybreakfast #cafefood #cafemenuideas #cafes #australiancafes #cafebreakfast #catering #cateringsupplies
Mulberry Tree brand makes a delicious gluten free paleo granola that is naturally healthy with no added sugar yet a touch sweet from the natural sugars in the dried fruits.
This serving is topped with Acai Berry paste from Amazon Power.
Ingredients
100g of Mulberry Tree "Crispy Apple Paleo " – Gluten Free granola
1 cup of Almond Milk
1/3 of a banana
2 teaspoons of Amazon Power organic Acai Berry Powder
Method
Mix the Acai berry powder into a few drops of water and stir it into a pulp. (alternately you can sprinkle it on to top).  Add the granola and almond milk to a bowl top with the Acai Berry paste and add a few slices of  fresh banana.
Acai Berry is slightly tart so eating it together with the tasty granola and banana makes an easy healthy breakfast enjoyable and together its makes a very health cereal breakfast even more potent with plenty of antioxidants.
Buy it online from our online shop linked to our parent companies (Opera Foods  wholesale food suppliers ) secure merchant website.
#mulberrytree #crispyapplepaleo #glutenfree #granola #operafoods #easyhealthybreakfast #breakfastcereal
IGA Marketplace Wentworthville Point is a new IGA store at the booming new subdivision of Wentworth Point, right opposite the ferry wharf.
They have a great range of Gourmet food products including Mulberry Tree brand, Crispy Apple Paleo which is also naturally gluten free.
An Easy Healthy Breakfast
Crispy Apple Paleo whilst clearly a muesli, is more like a granola as its toasted and crispy. Its also Low Sugar with No added sugar. Crispy Apple Paleo is a very healthy breakfast cereal without the cereal grains.  So its an easy healthy breakfast.
Crispy Apple Paleo comes in a 500g resealable zip-seal foil lined pouch for consumer convenience and freshness.
If you live near Wentworth Point by the Olympic park area stop into IGA Marketplace Wentworthville, which also includes a great fresh seafood counter a huge deli, a coffee shop, a fish and chip shop,  all in-house and a of course a massive grocery range.
NB: Mulberry Tree is a subsidiary of food manufacturer/wholesaler Opera Foods Pty Ltd
#IGAMarketplace #igamarketcentral #igawentworthpoint #WentworthPoint #MullberryTree #CrispyApplePaleo #PaleoMuesli #paleogranola #glutenfree #easyhealthybreakfast #healthygranola #healthyMuesli #lowsugar #noaddedsugar #operafoods
Roasted Almond Crunch, from Mulberry Tree, is a really crunchy roasted granola and an easy healthy breakfast with milk, almond milk or yogurt and fresh fruit.
However it also is a high protein breakfast suitable for active people who want a low GI breakfast that will give them sustained energy long into their day.
Roasted Almond Crunch is based on Almonds which are the most nutritious nut and a perfect taste for a low sugar breakfast.
Almonds are 21% protein and a nutritionally dense food, containing a rich source (over 20% of the daily Needs) of the B vitamins riboflavin and niacin, vitamin E, and the essential minerals calcium, copper, iron, magnesium, manganese, phosphorus, and zinc. Almonds are also a source of the B vitamins thiamine, vitamin B6, and folate, choline, and the essential mineral potassium. They also contain substantial dietary fiber.
Roasted Almond Crunch is loaded with healthy Australian almonds. Buy healthy crunchy granola direct from wholesale distributors and manufacturers Opera Foods.
#almonds #protein #roastedalmondcrunch #mulberrytree #crunchygranola #crunchycereal #easyhealthybreakfast #yogurt #highprotein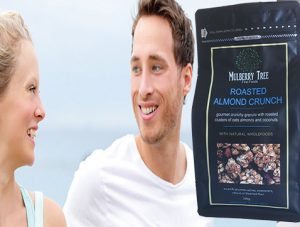 Get the stamina to sustain your day with a healthy low sugar low GI granola like best seller Roasted Almond Crunch from Mulberry Tree. Mulberry Tree is a long established Australian manufacturer that is focused on healthy granola and muesli products with no added sugar for an easy healthy breakfast. For fitness enthusiasts, a healthy granola packed with almonds and served with yogurt and fresh fruit can be the best natural high protein meal of the day. Buy it from IGA Market Central Wentworth Point or Greenwood Grocer of Greenwood Plaza North Sydney right next to the station. Mulberry Tree is a division of Opera Foods. #mulberrytree #granola #roastedalmondcrunch #healthygranola #noaddedsugar #lowsugar #easyhealthybreakfast #muesliproducts #bestseller #stamina #lowgi #operafoods #fitness #highprotein #almonds #yogurt #freshfruit #igamarketcentral #igawentworthpoint #greenwoodgrocer
Mulberry Tree, having introduced new packaging and a new mix of gourmet granola in Roasted Almond Crunch have decided to launch their new look with and introductory offer of  a huge 30% off until 30th June.
This time frame gives prospective new retailers time to try the products and still time to reorder at the discounted price.
Order Now at 30% off through our distributor Opera Foods
We're told that a lot of people find stuff through Instagram, so we have opened an account and posted. Here is our first organised post, shown using the hash tags (after learning what its all about).
Basically we have said "The best taste in a cranberry & nuts granola or muesli  and a winner of  the Great Taste Awards. It has no artificial sweeteners, and no artificial flavors, comes in a  new ziplock fresh reusable bag. Its full of low GI ingredients, so a healthy breakfast cereal that you can order online."
The hashtag presentation of the Instagram listing means that anyone searching Instagram under those tags can find our image and link back to our Instagram account and from there to our website to get our information
New Mulberry Tree muesli bags
Mulberry Tree have announced that their range of muesli and granola breakfast cereals will be packaged in a new re-seal-able and re-use-able bag.
The new high strength bag that is heat sealed will ensure maximum freshness and shelf life and the convenient zipper sealer enables consumers to re-seal in an instant ensuring their breakfast cereal remains fresh until totally consumed.
The bags are also flat bottom style which ensures they stand upon the grocery shelf and give retailers the best space saving and product exposure.
Opera Foods director Aniko Silk said that she particularly liked the matt black colour of the bags that will make the product stand out on the supermarket shelves.
Mulberry Tree breakfast cereal products will be shipping in the new style muesli bags from next month.