granola bars
now browsing by tag
Mulberry Tree are pleased to present Kind Nut Bars in our online store. These healthy snack bars are loaded with natural wholefood goodness. A good source of protein and fiber and really tasty and filling. They are great for kids lunch boxes and a nice TV snack so keep a pack handy in your pantry.
Kind Nut Bars Flavor Variations
There are four great flavor variations in Kind bars as follows:-
Almond & Coconut
Almond & Coconut Kind bars contain 32% Almonds, 27% Coconut and is rich in healthy fats to sustain longer.
Caramel Almond & Sea Salt
Caramel Almond & Sea Salt Kind nut bars contain 64% wholesome almond nuts plus a dash of caramel with a sprinkle of sea salt, its a super combo of satisfaction.
Dark Chocolate Nuts & Sea Salt
Dark Chocolate Nuts & Sea Salt Kind Bars contain whole nuts drizzled with dark chocolate and sprinkled with sea salt. It is a simple wholefood recipe, but its packed with nutrition & flavor.
Peanut Butter Dark Chocolate.
Peanut Butter Dark Chocolate Kind bars contains nuts blended with peanut butter and drizzled in dark chocolate. I is a becomes a tasty combination thats really satisfying, and peanut butter is a flavor that tastes great all round.
Gluten Free Suitable for Coeliacs
Kind bars are all gluten free so are suitable for coeliacs. Made from natural wholefood ingredients Kind bars can boost your protein levels with good levels protein per 40g Bar. They are also a nutritious and delicious nut snack bar. Kind bars all contain no artificial colours, flavors or preservatives. Goodness wrapped up and ready for a snack when you need a boost.
Order your 40g Kind bars, along with  your gourmet granola, in a bulk pack of 12 from Mulberry Tree Fine Foods through our parent company's online grocery store at Opera Foods.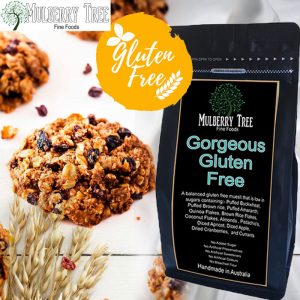 Established in 1988, Mulberry Tree is of the Opera Foods lineage, past masters in Gourmet Quality Breakfast Cereals Business. Award winners in International competitions (UK), the product range extends from Granola and Muesli Breakfast to Crispy Apple Paleo, Toasted Honey Macadamia, and Roasted Almond Crunch.
Consisting of High-Quality Fruits, Nuts and Grains sans Artificial Flavors or Preservatives, the foods have no added sugar plus low GI ingredients, which ensures extended release into the system, not to forget the Gluten-Free option and unbaked mixes. Our Muesli aids weight loss as it is low on saturated fat content and cholesterol. Granola can be had with Milk, Yoghurt or with dry fruits.
We have upgraded our packaging to aid looks, utility, facility to re-seal after partial use, besides elegant displayable characteristics in Wholesalers and Grocers.
Overnight deliveries can be made to Sydney, Melbourne, and Brisbane. Opera Foods are Wholesale suppliers to Melbourne Brisbane and to Sydney. Our Parent Company also now offers the Boost Nutrients range of Acai Bowl Ingredients. These combine perfectly with our Gourmet Granola.