Toasted Cranberry
now browsing by tag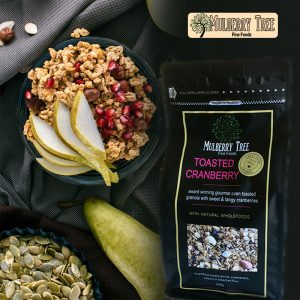 Toasted Cranberry Granola by Mulberry Tree is a natural whole food mix. It is a mixture of toasted granola with sweet and tangy cranberries. Mulberry Tree is a granola company favorite in high-quality superfood because our products are mostly made from wholefood ingredients. The Toasted Cranberry Granola is scrumptious oven-toasted granola; it is then laced with cranberries, apple, raisins, and almonds. The best way to enjoy the meal is by soaking it in fresh milk with added fresh fruits and yogurt.
Mulberry Tree is a label brand of Opera Foods a wholesale granola supplier. We offer crunchy granola and muesli for a healthy cereal breakfast.
All our products are packed in reusable zip zeal packs to retain the freshness with no added artificial preservatives. We deliver products to retailers and consumers direct from our online warehouse in NSW. Visit us to check out more details about our products along with huge discounts on your first order.
Award Winning Product
Mulberry Tree's
Toasted Cranberry
cereal has been awarded a gold medal at the prestigious Great Taste Awards by by the Guild of Fine Food UK.
The Great Taste awards in the UK, is organised by the Guild of Fine Food, and is the acknowledged benchmark for specialty food and drink products. The Great Taste awards have been described as the 'Oscars' of the food world and the 'epicurean equivalent of the Booker prize'.The Great Taste logo is a recognised accreditation that people trust globally when buying food products.About the Great Taste Awards
Over 400 experienced food judges, including 40 specially trained food writers inputting judges' comments, come together at 50 different judging days from 1st of April through to mid-July including a week in Belfast Ireland, at specialist test centers for tea, and for filter coffee and espresso, with the remainder of judging completed at Guild of Fine Food head office in Dorset UK.These judges, are from all corners of the food world. They blind-taste in teams of 4 or 5 ensuring the Great Taste Awards get a fair balance of expertise, age and gender. Read more about the Great Taste Awards here.