breakfast cereal
now browsing by tag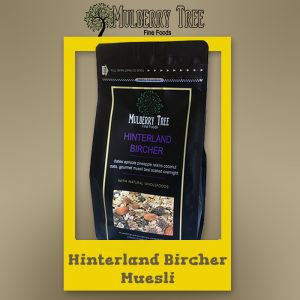 Hinterland Bircher Muesli by Mulberry Tree is regarded as a healthy cereal that is ideal for porridge or bircher style of breakfasts. This healthy cereal will keep one individual sustained throughout the day. Hinterland bircher muesli is made up of high standard ingredients. Hinterland bircher muesli has superior texture and better taste as it contains considerable volumes and high-quality ingredients.
Hinterland bircher muesli can be eaten with milk, almond milk, fruits, berries and yogurt. A low sugar cereal, as it contains no added sugar, sweeteners, colours and other artificial preservatives. It has no bleached flour.
The ingredients of hinterland bircher muesli are organic rolled oats, triticale, rice bran, dates, dried apricots, raisin, pistachio, pepitas, hazelnut kernels, coconut flakes, dried pineapples, linseeds, dried currants, cinnamon. Hinterland bircher muesli is packed in zip lock bags which makes convenient and comfortable for the users.
Visit our site for more information. Book your favourite product now and get online discounts.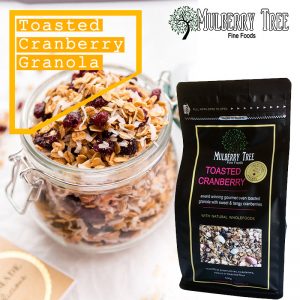 Toasted Cranberry is a nutritious and healthy granola product by Mulberry Tree a well-established Australian muesli company. Mulberry Tree is a manufacturer and  wholesale granola distributor as well as online direct to the public suppliers of Australia.  Mulberry Tree is a subsidiary of Opera Foods both owned and conducted by an Australian family business.
Our Toasted Cranberry granola is a very nutritious cereal that is easy and quick to make scrumptious recipes. It is rich in protein, and Low GI carbohydrate ingredients, that with give you a sustained boost to your day .
The main ingredients of toasted cranberry granola are rolled oats, dried cranberries, triticale, dried currants, water, raisin, molasses, almonds, pepitas, coconut flakes, apple, raw cashews, organic whole flour, agave, honey, syrup, pecans, cinnamon, ground cloves and many more. Toasted Cranberry granola can be eaten with milk, fresh fruit as well as yogurt. The product has won a gold medal at an international great taste award.
This great granola product is on specials this month at Opera Foods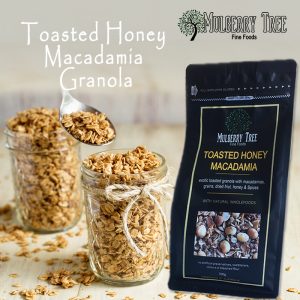 Wholesale Granola and Muesli products of Mulberry Tree represent the absolute best of nature. All our products are hand-prepared using the best quality ingredients from Australia's sun drenched farmlands. You can try our Muesli packs to start your day with sustained energy.
Our Toasted Honey Macadamia is an exotic toasted granola which is mixed with different nuts like grains, dried fruits, honey & spices. It is one of the healthiest breakfast cereals which is so convenient to prepare and cook.
Mulberry Tree is a wholesale supplier of crunchy Granolas and Muesli in Australia. They are a wholly-owned subsidiary of Opera Foods Pty Ltd, Muesli brands Australia. We produce a wide range of Muesli using the mixture of a different array of fruits and nuts like roasted almonds, toasted cranberries, and toasted macadamia.
Order your favorite Granola and Muesli pack from Mulberry tree to begin your morning with a renewed energy and strength.
Do you love granola products? Are you interested in reselling Granola? Kindly contact Mulberry Tree, we are the key wholesale granola suppliers of Australia.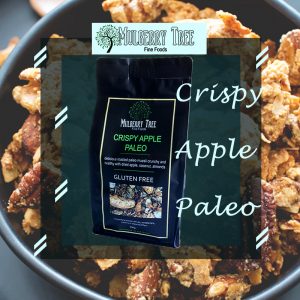 A paleo diet provides the perfect healthy balance to the immune system of our body and energizes our mind. They have a wide range of benefits like maintaining the sugar intake on our regular diets, weight loss and helps people with diabetes to a great extent. The Paleo breakfast products are made up of natural wholefoods which are processed from certified HACCP premises.
The Crispy Apple Paleo is made up of a mixture of different high protein seed,  and dry fruits. The ingredients used in making a packet of Crispy Apple Paleo are Dried Apples, Dried Cranberries, Dried Apple, shredded coconut, Pepitas, etc.
Mulberry Tree offers crunchy wholesale Granola and Muesli for your perfect breakfast diet. We deliver healthy breakfast cereal to retailers in Sydney, Melbourne and Brisbane overnights.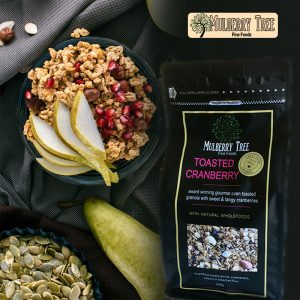 Toasted Cranberry Granola by Mulberry Tree is a natural whole food mix. It is a mixture of toasted granola with sweet and tangy cranberries. Mulberry Tree is a granola company favorite in high-quality superfood because our products are mostly made from wholefood ingredients. The Toasted Cranberry Granola is scrumptious oven-toasted granola; it is then laced with cranberries, apple, raisins, and almonds. The best way to enjoy the meal is by soaking it in fresh milk with added fresh fruits and yogurt.
Mulberry Tree is a label brand of Opera Foods a wholesale granola supplier. We offer crunchy granola and muesli for a healthy cereal breakfast.
All our products are packed in reusable zip zeal packs to retain the freshness with no added artificial preservatives. We deliver products to retailers and consumers direct from our online warehouse in NSW. Visit us to check out more details about our products along with huge discounts on your first order.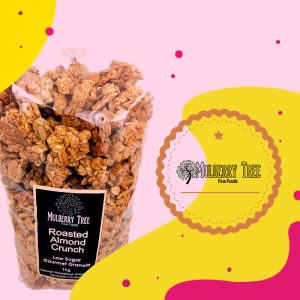 Granola has always been merited as one of the "healthiest breakfast cereal" among the superfoods. Granola is a type of breakfast cereal which is made up by combining nuts, grain oats, seeds and dried fruits. They are a good source of healthy fats, the monounsaturated and polyunsaturated fatty acids help in the lowering of blood pressure and cholesterol.
Mulberry Tree has been a standout brand among other famous granola brands in Australia over the years. Each variation of Granola or muesli which is available in our online store has different nutritional value thus making it exceptional in many cases. But all our granola products are rich in minerals and vitamins which results in good functionality of the nervous system of our body. It also improves cell growth and increases the energy metabolism of the immune system.
Our Delicious crunchy granola products are; Crispy Apple Paleo, Roasted Almond Crunch Granola, Toasted Cranberry Granola, and Toasted Honey & Macadamia Granola. They are tasty and crunchy, to sum up, your healthy morning breakfast. We produce high-quality gourmet Granola & Muesli. Check out our online store to get detailed knowledge about each product.
Mulberry Tree is a wholesale granola supplier to cafes and consumers in Australia through our parent company wholesale manufacturer/supplier Opera Foods.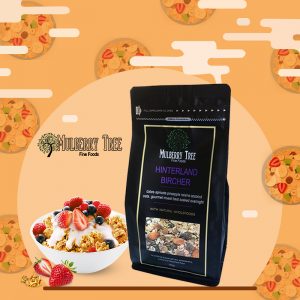 Muesli is a high fibre and wholegrain breakfast cereal which is prominently made up of Oats. Muesli can be dipped in almond milk or normal milk to make the perfect healthy breakfast which is rich in nutrients and vitamins. The Hinterland Bircher Muesli is one of its kinds best Birchers among various others. It has fewer amounts of calories and sugar which keep our digestive system in check. They are a great source of proteins, antioxidants, omega 3 and fatty acids.
Mulberry Tree uses only the best quality ingredients such as health Australian oats and almonds. The Hinterland Bircher Muesli is a combination of high protein nuts, fruits and berries like dates, apricots, hazelnuts, wheat flakes, mulberries and pineapple. It is a true gourmet bircher muesli which has the perfect blend of texture and a fantastic taste. They are packed in re-saleable zip lock bags which helps them to retain their freshness even without added food preservatives.
Mulberry Tree is an Australia owned muesli company.  All our products are made in Australia and stored and shipped from our warehouse in NSW. If you want crunchy gourmet breakfast of Granola and Muesli then the online store of Mulberry Tree is the apt place for you. We are label partner brand of Opera Foods a wholesale food Suppliers brand in Australia.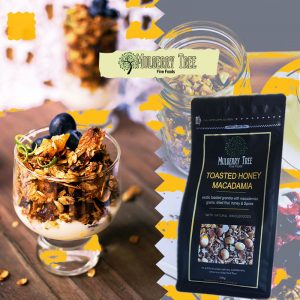 The Toasted Honey and Macadamia granola by Mulberry Tree is a healthy breakfast cereal meal that can be made really quick and conveniently. It is a healthy wholefood combination of Macadamia nuts, grains, fruits, spice, and honey.
Mulberry Tree offers high-quality gourmet crunchy granolas for a healthy and also a gluten-free breakfast cereal. We deliver wholesale granola to consumers and retailers in Sydney Melbourne and Brisbane suburbs overnight. All our products are packed in a new look Zip lock resealable bag which keeps the cereal fresh without adding any food preservatives.
Macadamia was first discovered growing in the forests of Queensland, there are two types of nut one is rough-shelled while the other is smooth-shelled. It is one of the best nuts found in the world because of its crunchy texture and delicious flavor. Macadamia contains a high amount of fiber and essential vitamins for our body. It reduces the risk of heart disease and lowers blood cholesterol levels.
Order your favorite Toasted Honey & Macadamia Granola 500g pack from our online store. Retailers can order in bulk from patent company store at Opera Foods.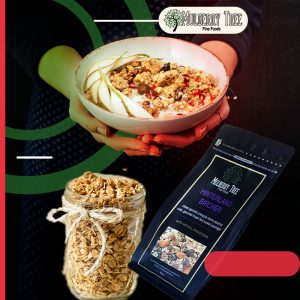 Our Hinterland Bircher Muesli of Mulberry Tree brand is the ideal breakfast cereal with a perfect taste and texture. This Bircher Style Muesli is a perfect mix of dates, apricots, wheat flakes, and hazelnut. Fruits like pineapples and berries like mulberries are added to provide the perfect blend for a satisfying meal.
The Hinterland Bircher Muesli of Mulberry-tree is gourmet muesli which is made up of Organic Oats and Almonds which are grown with special care without the use of any pesticides.
The Best way of having a bircher breakfast as a healthy breakfast meal is by soaking it overnight in milk or Almond milk. This will soften the cereal, take your bircher muesli in a bowl and add berries and yogurt as toppings and enjoy the satisfying meal. The variety of nuts and dried fruits does not only give us a tasty meal but it also provides us with the essential vitamins and nutrients which are required for the metabolism of our body.
There are also a wide range of superfood toppings available through Opera Foods that are ideal ingredients or toppings for a Bircher muesli.
Mulberry-Tree also provides gourmet crunchy wholesale granola with many healthy breakfast cereals. You can order your healthy breakfast cereals from our online store, and get it delivered in the suburbs of Sydney, Melbourne, and Brisbane overnight.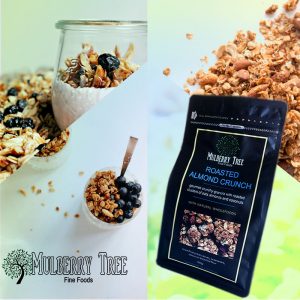 The Super Crunchy & Tasty Roasted Almond Crunch Granola is a very healthy breakfast cereal. They are baked with double clusters of oats, almonds, and coconut. It is probably one of the crunchiest granola available in our online store. The low sugar level (No added Sugar) makes it very appealing for all ages. Not only does it rejuvenate fresh energy and vitality in our body but also has a great taste.  All ingredients like Rolled Oats, Sunflower seeds, Almonds, Coconut Flakes, Cinnamon which are used are purely natural wholefoods. Our Granola is handmade in Australia using our perfected recipe.
Almonds contain about 21 % proteins and are nutrient rich food they also contain many dietary fibers which are essential for the body.
Mulberry Tree is a registered granola supplier; you can order Roasted Almond Crunch Granola in either the 500g and 1kg packs or in a 9kg catering pack from our online store. This healthy breakfast cereal will be delivered overnight for the suburbs of Sydney Melbourne and Brisbane and not much longer to other regions.
Note: This article was in part reprinted with permission from:
Author: Opera Foods. "Get A Healthy Breakfast Cereal – Roasted Almond Crunch", Opera Foods Wholesale Suppliers. Accessed 2019. Get A Healthy Breakfast Cereal – Roasted Almond Crunch
Mulberry Tree is a wholly own subsidiary of Opera Foods Pty Ltd.