roasted almond crunch
now browsing by tag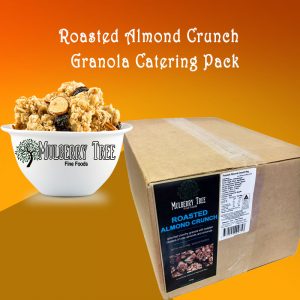 Roasted Almond Crunch granola catering pack of 9kg of the best-loved nutritious crunchy cereal of Mulberry Tree brand.  This granola is perfect for healthy breakfast ideas. This is packed in bulk which is quite good for huge savings. Roasted Almond Crunch 9kg granola catering pack is known in Australian cafes as the main acai bowl  ingredient. The 9kg pack can be repacked after unlocking from a sealed container for keeping it fresh and natural.
The main ingredients of roasted almond crunch granola catering pack are rolled oats, whole meal flour, high oleic sunflower oil, sunflower seeds, agave syrup, natural almonds, castor sugar, coconut flakes, cinnamon, natural maple flavour, salt and many more. Its a low sugar low GI healthy crunchy granola.
Buy Roasted Almond Crunch granola 9kg catering pack from the online store now. Discounts are available on this product. Save money when you buy the bulk pack and reduce packaging.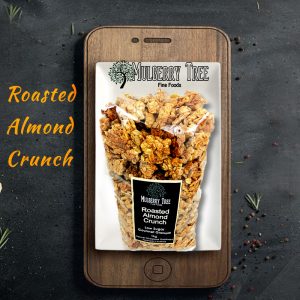 Roasted almond crunch by Mulberry Tree is tasty with crunchy granola clusters. This roasted almond crunch is good for the diet. This is quite known in Australian cafes for a main acai bowl ingredient. It can be eaten with milk, almond milk, fresh fruits and yogurt.
Roasted almond crunch contains protein, fiber, minerals and vitamins. It is a healthy whole food breakfast, and it contains no preservatives. It can be repacked into the respective sealed container after it is unpacked for keeping it fresh and crunchy.Best of all its a LOW SUGAR granola.
The ingredients of roasted almond crunch are rolled oats, wholemeal flour, high oleic sunflower oil, sunflower seeds, agave syrup, natural almonds, castor sugar, coconut flakes, cinnamon, natural maple flavour and salt.
Roasted almond crunch is a 1kg pack which is quite popular among whole food healthy cereals. We supply products to respective retailers in Melbourne, Brisbane and Sydney. We deliver products directly from our web stores to consumers.
Find the best granola in Roasted Almond Crunch. We are the manufacturers,and suppliers to cafes and independent grocers as well as to frozen acai berry distributors in Australia.
Visit our online store to know more about the product. Buy roasted almond crunch and get online discounts now.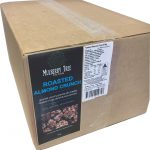 Roasted Almond Crunch granola in a 9kg catering pack of a healthy breakfast cereal by Mulberry Tree. Roasted Almond Crunch is a really crunchy healthy granola.
Mulberry Tree  is an Australian healthy granola and muesli manufacturer of easy healthy breakfast cereals.
Order online for overnight delivery of granola to Sydney, Melbourne and Brisbane suburbs. Save money at your cafe by avoiding expensive individual packaging with this large catering pack. Transfer to a sealed bin after opening to retain freshness.
Mulberry Tree is a  wholly owned subsidiary of Opera Foods Pty Ltd
#roastedalmondarunch #granola #cateringpack  #healthybreakfastcereal #mulberrytree #operafoods #healthygranola #healthycereal #mueslimanufacturers #easyhealthybreakfast #cafefood #cafemenuideas #cafes #australiancafes #cafebreakfast #catering #cateringsupplies
Roasted Almond Crunch, from Mulberry Tree, is a really crunchy roasted granola and an easy healthy breakfast with milk, almond milk or yogurt and fresh fruit.
However it also is a high protein breakfast suitable for active people who want a low GI breakfast that will give them sustained energy long into their day.
Roasted Almond Crunch is based on Almonds which are the most nutritious nut and a perfect taste for a low sugar breakfast.
Almonds are 21% protein and a nutritionally dense food, containing a rich source (over 20% of the daily Needs) of the B vitamins riboflavin and niacin, vitamin E, and the essential minerals calcium, copper, iron, magnesium, manganese, phosphorus, and zinc. Almonds are also a source of the B vitamins thiamine, vitamin B6, and folate, choline, and the essential mineral potassium. They also contain substantial dietary fiber.
Roasted Almond Crunch is loaded with healthy Australian almonds. Buy healthy crunchy granola direct from wholesale distributors and manufacturers Opera Foods.
#almonds #protein #roastedalmondcrunch #mulberrytree #crunchygranola #crunchycereal #easyhealthybreakfast #yogurt #highprotein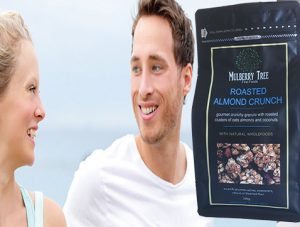 Get the stamina to sustain your day with a healthy low sugar low GI granola like best seller Roasted Almond Crunch from Mulberry Tree. Mulberry Tree is a long established Australian manufacturer that is focused on healthy granola and muesli products with no added sugar for an easy healthy breakfast. For fitness enthusiasts, a healthy granola packed with almonds and served with yogurt and fresh fruit can be the best natural high protein meal of the day. Buy it from IGA Market Central Wentworth Point or Greenwood Grocer of Greenwood Plaza North Sydney right next to the station. Mulberry Tree is a division of Opera Foods. #mulberrytree #granola #roastedalmondcrunch #healthygranola #noaddedsugar #lowsugar #easyhealthybreakfast #muesliproducts #bestseller #stamina #lowgi #operafoods #fitness #highprotein #almonds #yogurt #freshfruit #igamarketcentral #igawentworthpoint #greenwoodgrocer
New Mulberry Tree muesli bags
Mulberry Tree have announced that their range of muesli and granola breakfast cereals will be packaged in a new re-seal-able and re-use-able bag.
The new high strength bag that is heat sealed will ensure maximum freshness and shelf life and the convenient zipper sealer enables consumers to re-seal in an instant ensuring their breakfast cereal remains fresh until totally consumed.
The bags are also flat bottom style which ensures they stand upon the grocery shelf and give retailers the best space saving and product exposure.
Opera Foods director Aniko Silk said that she particularly liked the matt black colour of the bags that will make the product stand out on the supermarket shelves.
Mulberry Tree breakfast cereal products will be shipping in the new style muesli bags from next month.