Crispy Apple Paleo
now browsing by tag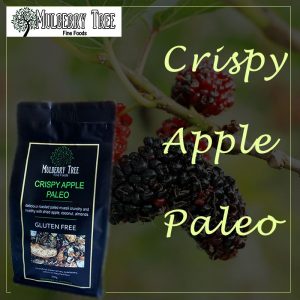 Crispy apple paleo is a product of Mulberry Tree. Whilst it is primarily a paleo muesli or granola it is also a gluten-free muesli or granola. Mulberry Tree is a wholesale granola manufacturer as well as a subsidiary of wholesale food suppliers in Australia. The business was established in the year of 1988 in Australia. The company produces a wide range of muesli from natural wholefood ingredients including dried fruits, grains, and nuts. It can be available in a independent grocery retailers in Australia and people can buy it direct from our online store.
People can make several kinds of authentic breakfast cereal dishes with the help of crispy apple paleo including apple galette, where it makes a nice sprinkle topping. Mulberry Tree manufactures a wide range of other granola and muesli products. Crispy apple paleo is a healthy paleo granola that does not include cereal grains and so remains a gluten free granola that is tasty and crunchy  and chewy.
The products is distributed in Australia by parent company Opera Foods.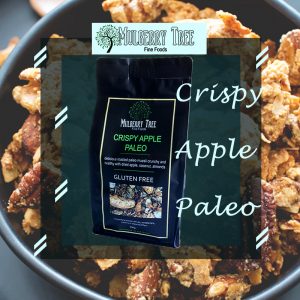 A paleo diet provides the perfect healthy balance to the immune system of our body and energizes our mind. They have a wide range of benefits like maintaining the sugar intake on our regular diets, weight loss and helps people with diabetes to a great extent. The Paleo breakfast products are made up of natural wholefoods which are processed from certified HACCP premises.
The Crispy Apple Paleo is made up of a mixture of different high protein seed,  and dry fruits. The ingredients used in making a packet of Crispy Apple Paleo are Dried Apples, Dried Cranberries, Dried Apple, shredded coconut, Pepitas, etc.
Mulberry Tree offers crunchy wholesale Granola and Muesli for your perfect breakfast diet. We deliver healthy breakfast cereal to retailers in Sydney, Melbourne and Brisbane overnights.
IGA Marketplace Wentworthville Point is a new IGA store at the booming new subdivision of Wentworth Point, right opposite the ferry wharf.
They have a great range of Gourmet food products including Mulberry Tree brand, Crispy Apple Paleo which is also naturally gluten free.
An Easy Healthy Breakfast
Crispy Apple Paleo whilst clearly a muesli, is more like a granola as its toasted and crispy. Its also Low Sugar with No added sugar. Crispy Apple Paleo is a very healthy breakfast cereal without the cereal grains.  So its an easy healthy breakfast.
Crispy Apple Paleo comes in a 500g resealable zip-seal foil lined pouch for consumer convenience and freshness.
If you live near Wentworth Point by the Olympic park area stop into IGA Marketplace Wentworthville, which also includes a great fresh seafood counter a huge deli, a coffee shop, a fish and chip shop,  all in-house and a of course a massive grocery range.
NB: Mulberry Tree is a subsidiary of food manufacturer/wholesaler Opera Foods Pty Ltd
#IGAMarketplace #igamarketcentral #igawentworthpoint #WentworthPoint #MullberryTree #CrispyApplePaleo #PaleoMuesli #paleogranola #glutenfree #easyhealthybreakfast #healthygranola #healthyMuesli #lowsugar #noaddedsugar #operafoods