Crispy Apple Paleo A Gluten Free Muesli Nice Benefits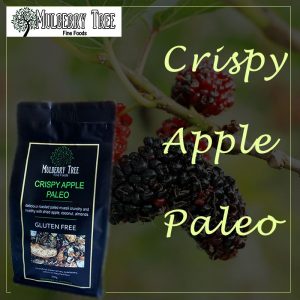 Crispy apple paleo is a product of Mulberry Tree. Whilst it is primarily a paleo muesli or granola it is also a gluten-free muesli or granola. Mulberry Tree is a wholesale granola manufacturer as well as a subsidiary of wholesale food suppliers in Australia. The business was established in the year of 1988 in Australia. The company produces a wide range of muesli from natural wholefood ingredients including dried fruits, grains, and nuts. It can be available in a independent grocery retailers in Australia and people can buy it direct from our online store.
People can make several kinds of authentic breakfast cereal dishes with the help of crispy apple paleo including apple galette, where it makes a nice sprinkle topping. Mulberry Tree manufactures a wide range of other granola and muesli products. Crispy apple paleo is a healthy paleo granola that does not include cereal grains and so remains a gluten free granola that is tasty and crunchy  and chewy.
The products is distributed in Australia by parent company Opera Foods.