Roasted Almond Crunch is Delicious crunchy Granola Perfect for Acai Bowl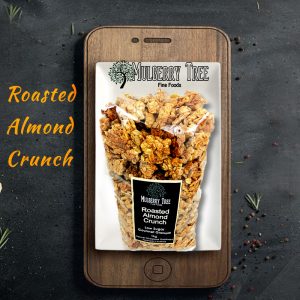 Roasted almond crunch by Mulberry Tree is tasty with crunchy granola clusters. This roasted almond crunch is good for the diet. This is quite known in Australian cafes for a main acai bowl ingredient. It can be eaten with milk, almond milk, fresh fruits and yogurt.
Roasted almond crunch contains protein, fiber, minerals and vitamins. It is a healthy whole food breakfast, and it contains no preservatives. It can be repacked into the respective sealed container after it is unpacked for keeping it fresh and crunchy.Best of all its a LOW SUGAR granola.
The ingredients of roasted almond crunch are rolled oats, wholemeal flour, high oleic sunflower oil, sunflower seeds, agave syrup, natural almonds, castor sugar, coconut flakes, cinnamon, natural maple flavour and salt.
Roasted almond crunch is a 1kg pack which is quite popular among whole food healthy cereals. We supply products to respective retailers in Melbourne, Brisbane and Sydney. We deliver products directly from our web stores to consumers.
Find the best granola in Roasted Almond Crunch. We are the manufacturers,and suppliers to cafes and independent grocers as well as to frozen acai berry distributors in Australia.
Visit our online store to know more about the product. Buy roasted almond crunch and get online discounts now.