healthy granola
now browsing by tag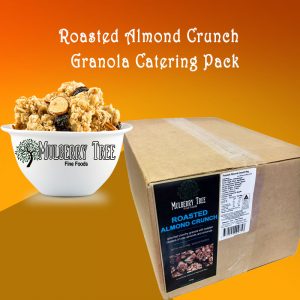 Roasted Almond Crunch granola catering pack of 9kg of the best-loved nutritious crunchy cereal of Mulberry Tree brand.  This granola is perfect for healthy breakfast ideas. This is packed in bulk which is quite good for huge savings. Roasted Almond Crunch 9kg granola catering pack is known in Australian cafes as the main acai bowl  ingredient. The 9kg pack can be repacked after unlocking from a sealed container for keeping it fresh and natural.
The main ingredients of roasted almond crunch granola catering pack are rolled oats, whole meal flour, high oleic sunflower oil, sunflower seeds, agave syrup, natural almonds, castor sugar, coconut flakes, cinnamon, natural maple flavour, salt and many more. Its a low sugar low GI healthy crunchy granola.
Buy Roasted Almond Crunch granola 9kg catering pack from the online store now. Discounts are available on this product. Save money when you buy the bulk pack and reduce packaging.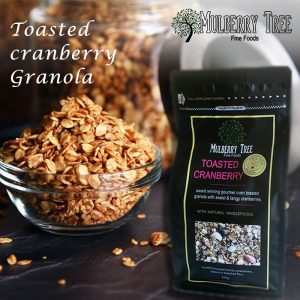 Toasted Cranberry granola is an easy healthy breakfast cereal. Australia's Mulberry Tree brand produces healthy breakfast cereals and our Toasted Cranberry granola is popular as a tasty, crunchy and quick breakfast. This product has won a gold medal at the International Great Taste Awards in UK.
Our Toasted Cranberry granola is regarded as a healthy breakfast cereal which is simply quick and easy to make. Toasted Cranberry is rich in protein, fiber, minerals, vitamin E and more. It can be eaten with milk, or almond milk and best topped with yogurt, fresh fruits or seeds and super-food toppings from the Boost Nutrients range.
The main ingredients of Toasted Cranberry Granola are organic rolled oats, triticale, dried cranberries, currants, water, raisin, molasses, pepitas, almonds, coconut flakes, apple, raw cashews, organic wholemeal flour, syrup, agave, honey, pecans, cinnamon, and ground cloves. A low sugar product, it contains no artificial preservatives, colors or sweeteners and it has no bleached flour. It is marketed in a foil lined pack which is sealed with a zip reseal to keep freshness.
Our delicious granola recipe is tasty and extra healthy, when we combine the tastes and textures of chopped nuts or seeds, bee pollen, pea protein etc.
Visit our parent company group online gourmet grocery store to find more details about this and many order products for online direct sales. Buy your favorite products now and avail online discounts.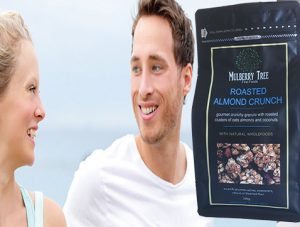 Get the stamina to sustain your day with a healthy low sugar low GI granola like best seller Roasted Almond Crunch from Mulberry Tree. Mulberry Tree is a long established Australian manufacturer that is focused on healthy granola and muesli products with no added sugar for an easy healthy breakfast. For fitness enthusiasts, a healthy granola packed with almonds and served with yogurt and fresh fruit can be the best natural high protein meal of the day. Buy it from IGA Market Central Wentworth Point or Greenwood Grocer of Greenwood Plaza North Sydney right next to the station. Mulberry Tree is a division of Opera Foods. #mulberrytree #granola #roastedalmondcrunch #healthygranola #noaddedsugar #lowsugar #easyhealthybreakfast #muesliproducts #bestseller #stamina #lowgi #operafoods #fitness #highprotein #almonds #yogurt #freshfruit #igamarketcentral #igawentworthpoint #greenwoodgrocer