bircher muesli
now browsing by tag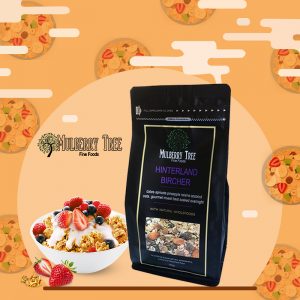 Muesli is a high fibre and wholegrain breakfast cereal which is prominently made up of Oats. Muesli can be dipped in almond milk or normal milk to make the perfect healthy breakfast which is rich in nutrients and vitamins. The Hinterland Bircher Muesli is one of its kinds best Birchers among various others. It has fewer amounts of calories and sugar which keep our digestive system in check. They are a great source of proteins, antioxidants, omega 3 and fatty acids.
Mulberry Tree uses only the best quality ingredients such as health Australian oats and almonds. The Hinterland Bircher Muesli is a combination of high protein nuts, fruits and berries like dates, apricots, hazelnuts, wheat flakes, mulberries and pineapple. It is a true gourmet bircher muesli which has the perfect blend of texture and a fantastic taste. They are packed in re-saleable zip lock bags which helps them to retain their freshness even without added food preservatives.
Mulberry Tree is an Australia owned muesli company.  All our products are made in Australia and stored and shipped from our warehouse in NSW. If you want crunchy gourmet breakfast of Granola and Muesli then the online store of Mulberry Tree is the apt place for you. We are label partner brand of Opera Foods a wholesale food Suppliers brand in Australia.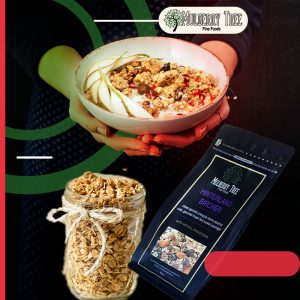 Our Hinterland Bircher Muesli of Mulberry Tree brand is the ideal breakfast cereal with a perfect taste and texture. This Bircher Style Muesli is a perfect mix of dates, apricots, wheat flakes, and hazelnut. Fruits like pineapples and berries like mulberries are added to provide the perfect blend for a satisfying meal.
The Hinterland Bircher Muesli of Mulberry-tree is gourmet muesli which is made up of Organic Oats and Almonds which are grown with special care without the use of any pesticides.
The Best way of having a bircher breakfast as a healthy breakfast meal is by soaking it overnight in milk or Almond milk. This will soften the cereal, take your bircher muesli in a bowl and add berries and yogurt as toppings and enjoy the satisfying meal. The variety of nuts and dried fruits does not only give us a tasty meal but it also provides us with the essential vitamins and nutrients which are required for the metabolism of our body.
There are also a wide range of superfood toppings available through Opera Foods that are ideal ingredients or toppings for a Bircher muesli.
Mulberry-Tree also provides gourmet crunchy wholesale granola with many healthy breakfast cereals. You can order your healthy breakfast cereals from our online store, and get it delivered in the suburbs of Sydney, Melbourne, and Brisbane overnight.