Roasted Almond Crunch Granola Cafe Catering Pack 9kg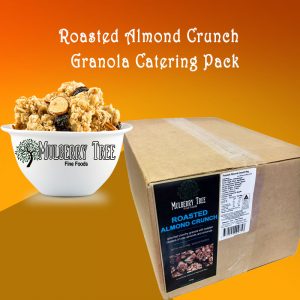 Roasted Almond Crunch granola catering pack of 9kg of the best-loved nutritious crunchy cereal of Mulberry Tree brand.  This granola is perfect for healthy breakfast ideas. This is packed in bulk which is quite good for huge savings. Roasted Almond Crunch 9kg granola catering pack is known in Australian cafes as the main acai bowl  ingredient. The 9kg pack can be repacked after unlocking from a sealed container for keeping it fresh and natural.
The main ingredients of roasted almond crunch granola catering pack are rolled oats, whole meal flour, high oleic sunflower oil, sunflower seeds, agave syrup, natural almonds, castor sugar, coconut flakes, cinnamon, natural maple flavour, salt and many more. Its a low sugar low GI healthy crunchy granola.
Buy Roasted Almond Crunch granola 9kg catering pack from the online store now. Discounts are available on this product. Save money when you buy the bulk pack and reduce packaging.