Roasted Almond Crunch Perfect for the Acai Bowl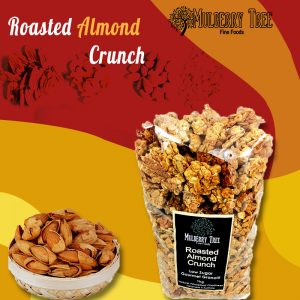 Roasted Almond Crunch is a crunchy low sugar granola product of Mulberry Tree, a wholesale granola brand. Our Roasted Almond Crunch granola is super crunchy as well as a tasty base served in many cafes around Australia. It is perfect for the Acai Bowl and ideal for a healthy breakfast or snack.
It is also a favorite snack food for kids. Roasted almond crunch is basically a double-baked cluster of granola with coconut and almonds. It is a low sugar granola and loaded with wholefood ingredients.
However, roasted almond crunch is a vegan granola therefore, it is suitable for those people who eat vegan in healthy cereals. Roasted almond crunch is rich in protein, vitamin E, magnesium as well as potassium that aid to flow nutrients and oxygen freely within the body.  This great granola helps to lower cholesterol level, blood pressure and many more.
Mulberry Tree provides different varieties of Granola and Muesli which are easy healthy breakfast cereals that are delicious as well as less time-consuming.