mulberry tree fine foods
now browsing by tag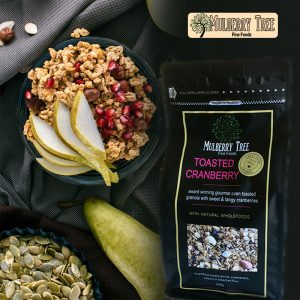 Toasted Cranberry Granola by Mulberry Tree is a natural whole food mix. It is a mixture of toasted granola with sweet and tangy cranberries. Mulberry Tree is a granola company favorite in high-quality superfood because our products are mostly made from wholefood ingredients. The Toasted Cranberry Granola is scrumptious oven-toasted granola; it is then laced with cranberries, apple, raisins, and almonds. The best way to enjoy the meal is by soaking it in fresh milk with added fresh fruits and yogurt.
Mulberry Tree is a label brand of Opera Foods a wholesale granola supplier. We offer crunchy granola and muesli for a healthy cereal breakfast.
All our products are packed in reusable zip zeal packs to retain the freshness with no added artificial preservatives. We deliver products to retailers and consumers direct from our online warehouse in NSW. Visit us to check out more details about our products along with huge discounts on your first order.