Australian Muesli Company
now browsing by tag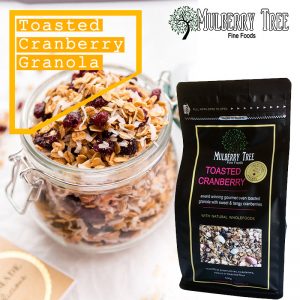 Toasted Cranberry is a nutritious and healthy granola product by Mulberry Tree a well-established Australian muesli company. Mulberry Tree is a manufacturer and  wholesale granola distributor as well as online direct to the public suppliers of Australia.  Mulberry Tree is a subsidiary of Opera Foods both owned and conducted by an Australian family business.
Our Toasted Cranberry granola is a very nutritious cereal that is easy and quick to make scrumptious recipes. It is rich in protein, and Low GI carbohydrate ingredients, that with give you a sustained boost to your day .
The main ingredients of toasted cranberry granola are rolled oats, dried cranberries, triticale, dried currants, water, raisin, molasses, almonds, pepitas, coconut flakes, apple, raw cashews, organic whole flour, agave, honey, syrup, pecans, cinnamon, ground cloves and many more. Toasted Cranberry granola can be eaten with milk, fresh fruit as well as yogurt. The product has won a gold medal at an international great taste award.
This great granola product is on specials this month at Opera Foods