How to Make the Best Bircher Muesli?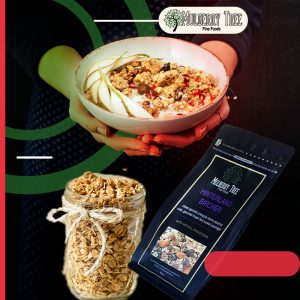 Our Hinterland Bircher Muesli of Mulberry Tree brand is the ideal breakfast cereal with a perfect taste and texture. This Bircher Style Muesli is a perfect mix of dates, apricots, wheat flakes, and hazelnut. Fruits like pineapples and berries like mulberries are added to provide the perfect blend for a satisfying meal.
The Hinterland Bircher Muesli of Mulberry-tree is gourmet muesli which is made up of Organic Oats and Almonds which are grown with special care without the use of any pesticides.
The Best way of having a bircher breakfast as a healthy breakfast meal is by soaking it overnight in milk or Almond milk. This will soften the cereal, take your bircher muesli in a bowl and add berries and yogurt as toppings and enjoy the satisfying meal. The variety of nuts and dried fruits does not only give us a tasty meal but it also provides us with the essential vitamins and nutrients which are required for the metabolism of our body.
There are also a wide range of superfood toppings available through Opera Foods that are ideal ingredients or toppings for a Bircher muesli.
Mulberry-Tree also provides gourmet crunchy wholesale granola with many healthy breakfast cereals. You can order your healthy breakfast cereals from our online store, and get it delivered in the suburbs of Sydney, Melbourne, and Brisbane overnight.