The Crispy and Crunchy Breakfast for Paleo Lovers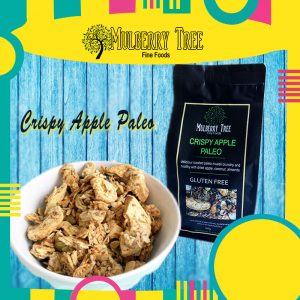 The Crispy Apple Paleo by Mulberry Tree brand is a true paleo mix which is specially made for Paleo lovers. This is ideally the best handmade Paleo mix which is found in Australia and it is also Gluten Free. The advantages of having Crispy Apple Paleo for breakfast is they are made up of real fruit pieces and does not contain cereal grains.  The combo is gluten free and made up of real dried fruits such as Dried Apples, Dried Cranberries, Almond Flakes, Coconut, Honey, Baking Powder, Linseed and Vanilla Powder. Every crispy crunchy bite of the Crispy Apple Paleo breakfast cereal is nice and tasty your husband and children will love its fresh chewy taste.
Mulberry Tree is a recognized and famous muesli brands Australia.  You can also order high-quality wholesale granola and muesli from our online store. We also deliver orders in bulk for retailers from our warehouse in NSW, Australia.