Hinterland bircher muesli
now browsing by tag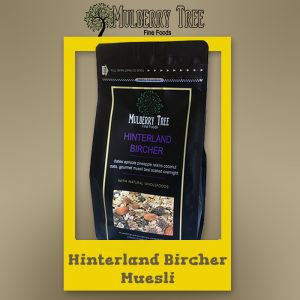 Hinterland Bircher Muesli by Mulberry Tree is regarded as a healthy cereal that is ideal for porridge or bircher style of breakfasts. This healthy cereal will keep one individual sustained throughout the day. Hinterland bircher muesli is made up of high standard ingredients. Hinterland bircher muesli has superior texture and better taste as it contains considerable volumes and high-quality ingredients.
Hinterland bircher muesli can be eaten with milk, almond milk, fruits, berries and yogurt. A low sugar cereal, as it contains no added sugar, sweeteners, colours and other artificial preservatives. It has no bleached flour.
The ingredients of hinterland bircher muesli are organic rolled oats, triticale, rice bran, dates, dried apricots, raisin, pistachio, pepitas, hazelnut kernels, coconut flakes, dried pineapples, linseeds, dried currants, cinnamon. Hinterland bircher muesli is packed in zip lock bags which makes convenient and comfortable for the users.
Visit our site for more information. Book your favourite product now and get online discounts.