healthy cereal
now browsing by tag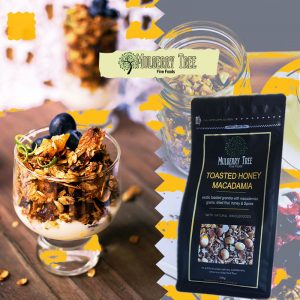 The Toasted Honey and Macadamia granola by Mulberry Tree is a healthy breakfast cereal meal that can be made really quick and conveniently. It is a healthy wholefood combination of Macadamia nuts, grains, fruits, spice, and honey.
Mulberry Tree offers high-quality gourmet crunchy granolas for a healthy and also a gluten-free breakfast cereal. We deliver wholesale granola to consumers and retailers in Sydney Melbourne and Brisbane suburbs overnight. All our products are packed in a new look Zip lock resealable bag which keeps the cereal fresh without adding any food preservatives.
Macadamia was first discovered growing in the forests of Queensland, there are two types of nut one is rough-shelled while the other is smooth-shelled. It is one of the best nuts found in the world because of its crunchy texture and delicious flavor. Macadamia contains a high amount of fiber and essential vitamins for our body. It reduces the risk of heart disease and lowers blood cholesterol levels.
Order your favorite Toasted Honey & Macadamia Granola 500g pack from our online store. Retailers can order in bulk from patent company store at Opera Foods.