gluten free pasta
now browsing by tag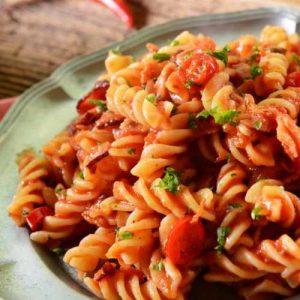 Gluten free pasta can be a bit of a hit and miss affair. But with a bit of know how and a really good basic sauce you will wonder why you never made the switch sooner.
Next to bread, pasta must be the most missed menu item when going gluten-free. Possible the quickest and easiest meal to put together on the planet, as well as satisfying and cheap to make, pasta has earned its place in our recipe repertoire. But what happens when you decide to give up gluten; what on earth will fill that gaping pasta shaped hole?
What is gluten free pasta made from?
Again, it is the very qualities of wheat and its resident gluten that make pasta the success that it is. A lot of commercial gluten-free pasta is made from corn, and whilst it does hold its shape and texture well, the proliferation of corn in gluten free products is leading it into the same difficult territory as modern wheat.
But there are alternatives, and the eating quality of gluten-free pasta has come a long way. As we saw in our article on gluten free flours, quinoa and rice have significant amounts of protein that make them robust enough to make pasta, and sorghum is also ideal.
There are now completely grain free pasta options available too.
The trick with gluten free pasta is careful cooking. The timing on the manufacturer label may not be entirely accurate so you may want to be flexible with this. Nobody wants overcooked gluey pasta, but gluten free pasta is far less forgiving than the wheat variety.
Cook your gluten free pasta in a large pan with plenty of room, and lots of salt in the water. Keep it over a high heat on a rolling boil. Once the pasta begins to soften, keep checking it every few minutes. As it approaches the almost done stage, keep checking more frequently. You want to drain it before you think it is ready, when it is still a little firm. Then, drain it quickly, toss it in hot sauce, and serve immediately.
Try these organic quinoa rice pasta shells
Or this organic quinoa rice penne
This organic spaghetti is made from sorghum
Try this organic sorghum fusilli
Go grain free with this edamame and mung bean fettucine
Great pasta needs great sauce
A great sauce can change the way you look at pasta forever. Once you go down the road of gluten free, chances are that you will start scrutinising the food that you eat more and more. Food and ingredients that once were perfectly acceptable are suddenly unveiled as the chemical concoctions that they really are. The answer? Make it yourself.
The basic tomato sauce could not be simpler. Made from just a handful of ingredients, it is a prime example of letting simplicity shine. Make a big batch and freeze it in portions to use as a base for your pasta sauces, or just as a sauce in its own right. It is also an excellent starting point for maximising flavour in stews and braises, and any other tomato based dishes.
The best basic tomato sauce recipe
A good tomato sauce should be all about the tomatoes. Onions add sweetness and acidity, whilst the sundried tomatoes are there for texture. The oil makes it glossy and rich. Interestingly if your sauce is bitter at the end of cooking, as tomato sauce often is, try adding more salt not the usually suggested pinch of sugar. Add the salt a pinch at a time until you can taste the sauce has rounded out. You will end up with a far better balanced and complex savoury sauce than if you added a pinch of sugar.
1 x onion, chopped
2 x cloves garlic, whole
2 x bay leaves
1/4 cup olive oil
1 tsp flaked sea salt
2 tbsp organic tomato paste
150g organic sundried tomatoes, chopped
2 x 680g organic tomato and basil passata 
Place a large saucepan over a medium low heat and add half of the olive oil.
Add the onions with the salt, garlic and bay leaves. Cook gently, stirring occasionally until softened yet not browned.
Add the tomato puree and stir for a few minutes.
Add the sundried tomatoes and the passata, along with the rest of the oil. Fill the passata bottle with water and add this too.
Bring to a simmer and then lower the heat (probably as low as it is will go) so the sauce very gently bubbles.
Simmer the sauce this way for at least an hour.
When the sauce it ready, the liquid will have reduced by about a third and you can see the change in the texture. Instead of simmering, the bubbles start to form craters that pop and start making a mess of your hob.
Batch up into portions and freeze.
Matching your pasta to your sauce
Long thin pasta types need nothing more than a slick of sauce so the above tomato sauce works great just as it. Chunky pasta types like penne work well with a chunky sauce so here you can get creative and use your basic tomato sauce as a base. Try heating it in a shallow saucepan, and adding a can of tuna, a handful of mussels and a few olives. Finish with an extra slick of oil and a handful of chopped fresh parsley. Or why not fry off some chopped peppers and mushrooms before adding a portion of your basic sauce? These are just two ways that you can build on the basic sauce, and get great pasta every time!
Want to learn more? Start with this introduction to gluten-free food.
Explore our range of gluten-free groceries, available to order online. Why not buy in bulk to take advantage of wholesale prices?
---
This article was reproduced on this site with permission from operafoods.com.au the "Gluten Free Grocery wholesalers".
See original article:-