June, 2019
now browsing by month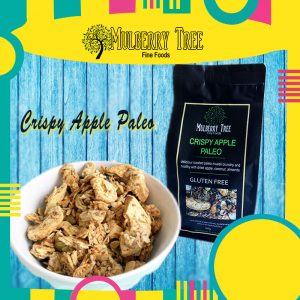 The Crispy Apple Paleo by Mulberry Tree brand is a true paleo mix which is specially made for Paleo lovers. This is ideally the best handmade Paleo mix which is found in Australia and it is also Gluten Free. The advantages of having Crispy Apple Paleo for breakfast is they are made up of real fruit pieces and does not contain cereal grains.  The combo is gluten free and made up of real dried fruits such as Dried Apples, Dried Cranberries, Almond Flakes, Coconut, Honey, Baking Powder, Linseed and Vanilla Powder. Every crispy crunchy bite of the Crispy Apple Paleo breakfast cereal is nice and tasty your husband and children will love its fresh chewy taste.
Mulberry Tree is a recognized and famous muesli brands Australia.  You can also order high-quality wholesale granola and muesli from our online store. We also deliver orders in bulk for retailers from our warehouse in NSW, Australia.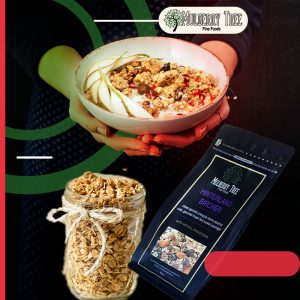 Our Hinterland Bircher Muesli of Mulberry Tree brand is the ideal breakfast cereal with a perfect taste and texture. This Bircher Style Muesli is a perfect mix of dates, apricots, wheat flakes, and hazelnut. Fruits like pineapples and berries like mulberries are added to provide the perfect blend for a satisfying meal.
The Hinterland Bircher Muesli of Mulberry-tree is gourmet muesli which is made up of Organic Oats and Almonds which are grown with special care without the use of any pesticides.
The Best way of having a bircher breakfast as a healthy breakfast meal is by soaking it overnight in milk or Almond milk. This will soften the cereal, take your bircher muesli in a bowl and add berries and yogurt as toppings and enjoy the satisfying meal. The variety of nuts and dried fruits does not only give us a tasty meal but it also provides us with the essential vitamins and nutrients which are required for the metabolism of our body.
There are also a wide range of superfood toppings available through Opera Foods that are ideal ingredients or toppings for a Bircher muesli.
Mulberry-Tree also provides gourmet crunchy wholesale granola with many healthy breakfast cereals. You can order your healthy breakfast cereals from our online store, and get it delivered in the suburbs of Sydney, Melbourne, and Brisbane overnight.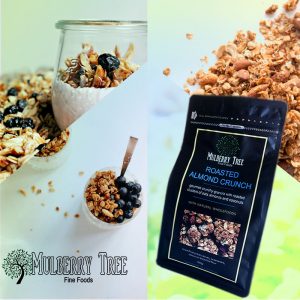 The Super Crunchy & Tasty Roasted Almond Crunch Granola is a very healthy breakfast cereal. They are baked with double clusters of oats, almonds, and coconut. It is probably one of the crunchiest granola available in our online store. The low sugar level (No added Sugar) makes it very appealing for all ages. Not only does it rejuvenate fresh energy and vitality in our body but also has a great taste.  All ingredients like Rolled Oats, Sunflower seeds, Almonds, Coconut Flakes, Cinnamon which are used are purely natural wholefoods. Our Granola is handmade in Australia using our perfected recipe.
Almonds contain about 21 % proteins and are nutrient rich food they also contain many dietary fibers which are essential for the body.
Mulberry Tree is a registered granola supplier; you can order Roasted Almond Crunch Granola in either the 500g and 1kg packs or in a 9kg catering pack from our online store. This healthy breakfast cereal will be delivered overnight for the suburbs of Sydney Melbourne and Brisbane and not much longer to other regions.
Note: This article was in part reprinted with permission from:
Author: Opera Foods. "Get A Healthy Breakfast Cereal – Roasted Almond Crunch", Opera Foods Wholesale Suppliers. Accessed 2019. Get A Healthy Breakfast Cereal – Roasted Almond Crunch
Mulberry Tree is a wholly own subsidiary of Opera Foods Pty Ltd.