Try this smoothie granola bowl with raw cacao, coconut and banana.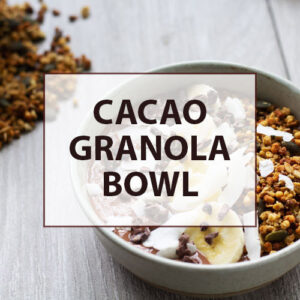 A direct descendant of the acai bowl, the granola bowl (or smoothie bowl) is a refreshingly frosty bowl of breakfast goodness.
The key to the perfect granola breakfast bowl is of course good granola, and maybe a decent recipe or two. It can be tempting to throw the contents of the cupboard at the bowl in the name of good health, but a little restraint goes a long way. Mix and match your flavours and textures with a variety of bases, toppings and types of granola.
We have taken a basic frozen banana base and made it deliciously decadent with raw cacao. You can use any milk you like. For a more coconutty feel, you could even add some coconut cream. The crunch of granola goes so well against the creamy frozen base; try our honey and macadamia granola. Add an edge of bitter crunch with raw cacao nibs, and the creamy tones of fresh banana and coconut flakes. It tastes so good, and cacao is super good for you.
It can be tricky to get the perfect frozen texture, especially in a personal blender. The trick is to get it going first and once you have a smooth base, add more frozen banana to thicken it up. Leaving the frozen banana chunks to defrost for 15 minutes before blitzing really helps to get the perfect texture. You also need to work quickly and serve it before it melts. The contrast of temperatures and textures is so surprising though, especially if you have never experienced a smoothie bowl before.
Recipe for raw cacao, coconut and banana granola bowl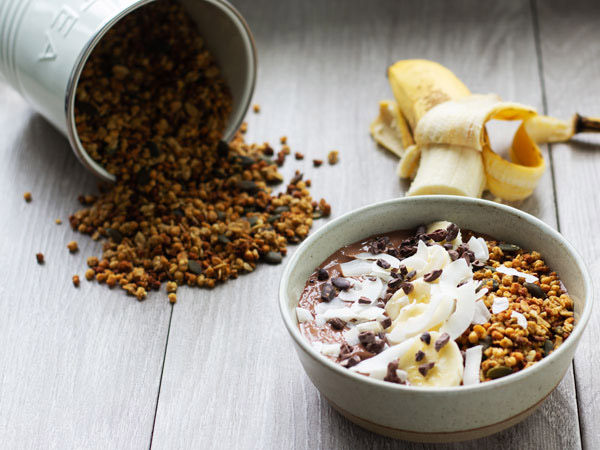 Frozen banana chunks, equivalent of 1.5 bananas
1/2 to 3/4 cup milk
2 tbsp raw cacao powder
4 tbsp granola
1 tbsp cacao nibs
1 tbsp coconut flakes
1/2 banana, sliced
Put half of the banana chunks in a blender with 1/2 cup of milk and blitz until smooth. At this stage it will be probably be quite runny.
Add a little more milk, and the rest of the banana chunks, until it is thick and frosty.
Blitz in the cacao powder.
You should have something thicker than a smoothie but not as thick as nice cream.
Transfer to a bowl, and top with granola, cacao nibs, coconut flakes and fresh banana slices.
Eat immediately whilst still frozen.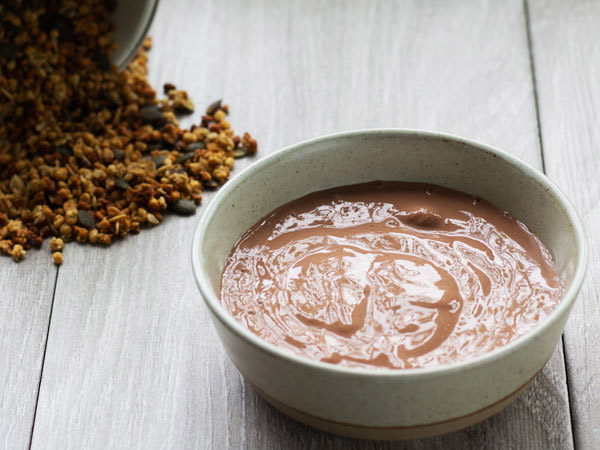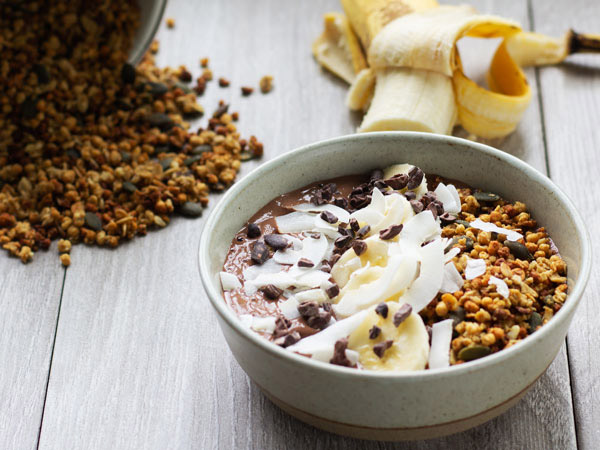 Check out some of our low sugar cereals or our range of wholesale organic food to buy online.