How to Make a Muesli Cookie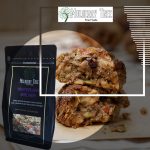 For all those who want to aid weight control and want less amount of sugar in their breakfast Muesli is the ideal breakfast dish for them. It is very good for weight loss as it contains a very low amount of saturated fat and cholesterol.
Studies have shown that a diet rich in fresh fruits and vegetables increases the immune system of our body, which also reduces the risk of Cancer and other age-related common diseases. Similar to the traditional Muesli, our Hinterland Bircher Muesli is also a perfect choice for breakfast. The cereal is soaked in milk overnight to soften them; dried fruit and nuts are then added to it, and it tastes great when combined with berries and yoghurt.
There are many creative ways to eat Muesli; today I will share the recipe to make a Muesli Cookie (the dish is gluten-free and vegan).
Ingredients:
1/2 cup of seed butter
1/3 cup of honey
1/2 teaspoon of ground cinnamon
1/2 teaspoon of salt
1 teaspoon of vanilla extract
1 large egg
3/4 cup of Muesli (use Mulberry Tree brand – Hinterland Bircher Muesli)
1/2 cup of wheat flour
1/2 cup of baking soda
Preheat the gas oven to 350°F. Take a medium pot and keep it in medium heat, melt the honey and seed butter together once it becomes smooth turn the heat off. Now put the ground cinnamon, salt and vanilla extract and stir it using a wooden spoon. Once the mixture cools down completely beat the one large egg into it. Now add the Mulberry Tree brand – Hinterland Bircher Muesli, flour and baking powder into the pot and stir the mixture. Now using the dough roll it into a ball and flatten it into a baking sheet, keep space between the flattened balls and bake it up to 6-8 minutes until golden brown colour does not appear. Take out the cookies and store it in a container for about 4 days, and then you can munch on your delicious Muesli cookies.