Benefits of Having Crispy Apple Paleo as a Breakfast Meal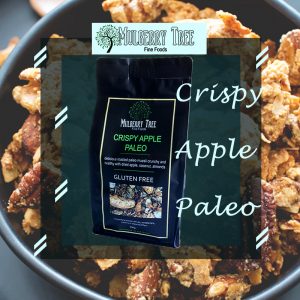 A paleo diet provides the perfect healthy balance to the immune system of our body and energizes our mind. They have a wide range of benefits like maintaining the sugar intake on our regular diets, weight loss and helps people with diabetes to a great extent. The Paleo breakfast products are made up of natural wholefoods which are processed from certified HACCP premises.
The Crispy Apple Paleo is made up of a mixture of different high protein seed,  and dry fruits. The ingredients used in making a packet of Crispy Apple Paleo are Dried Apples, Dried Cranberries, Dried Apple, shredded coconut, Pepitas, etc.
Mulberry Tree offers crunchy wholesale Granola and Muesli for your perfect breakfast diet. We deliver healthy breakfast cereal to retailers in Sydney, Melbourne and Brisbane overnights.