Roasted Almond Crunch Granola: The Breakfast Snack enjoyed by people of all ages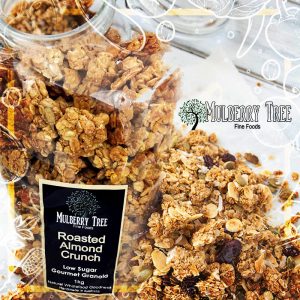 Our Roasted Almond Crunch Granola is your go-to snack when you are on the move. It is made up of fresh almonds, coconut and a carefully baked cluster of Oats. The uniqueness of our Roasted Almond Crunch Granola which is easily available under the brand name of the Mulberry-tree is that it contains very low sugar and is a preferred healthy breakfast cereal. It can also be found in different sizes and packets according to your needs. If you are planning for a vacation and you need to carry snacks in your backpack you can go with our 500gm pack or 1Kg pack which is packed in an easy Zip reseal pack that will keep it fresh and tasty without any natural preservatives. And if you want to order Roasted Almond Crunch Granola is a huge scale then you can go with our Catering Packed Size of 9Kg.
Whatever your requirement be you can order from Opera Foods a famous Muesli brand in Australia. Your online order will be delivered within an overnight if you are from Sydney, Melbourne, and Brisbane by Wholesale supplier Opera Foods.